Mother and son frightened by enormous UFO on late night drive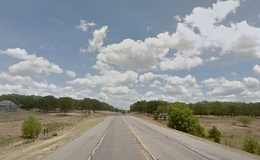 The witnesses were driving west on Highway 36, outside of Cameron, Texas when they had their UFO encounter.
A mother and son reported a frightening encounter with a large, octagon shaped UFO that hovered over their car in Cameron,Texas, on the evening of December 21, 2012.
Both the mother and son filed reports with the National UFO Reporting Center (NUFORC). The mother felt nervous having to explain what they saw, because of how unusual the object looked to them.
The two were driving on Highway 36 to a relative's home in Copper Cove, TX, from Houston at about 11:30 PM when they noticed "a very bright flashing light" in the distance, near Cameron. The mother thought that it was a conventional aircraft with unusually bright lights.
Her son described the light as pulsing on and off in one second intervals. He disregarded the craft as nothing more than an aircraft and looked away until he heard his mother "shriek."
The object, according to both witnesses was suddenly "right above" their SUV about 400 meters above them, according to the mother.
The mother described the "enormous...utterly surreal looking" object as octagon shaped with flashing lights on all sides and looked like a "building floating on the sky" with a "depth and structure that was difficult to put into context."
Her son reported that the craft was clearly visible and illuminated when the lights on the craft flashed "on." He described a gray color on the bottom of the craft with a light in each corner. The son added that the UFO "was not skinny" looked like a "hotel in mid air," and that its size was "jaw-dropping."
The mother was shocked by what they saw and became fearful that its close proximity was a potential threat to them. She "stepped on the gas to get away from it" and drove well above the speed limit while her son crawled to the back seat to take a photo of the UFO with his mother's phone. By that time, the craft had moved several miles away.
The son added that the no noise was heard or exhaust was seen from the craft. The son submitted photographs of the object which NUFORC has not published.
NUFORC's Peter Davenport interviewed both witnesses, and characterized them as "quite sincere, and quite sober-minded." Davenport described the mother as a "highly reliable witness" and that she "sounded quite emotionally shaken by her experience."