More UFO witnesses step forward in eastern Australia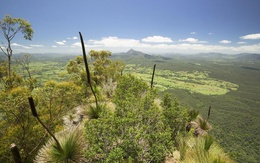 Kyogle, Australia. Located at the base of Fairy Mountain, Kyogle is known as the 'gateway to the rainforests'. It is almost completely surrounded by the largest remaining areas of rainforest in New South Wales.
Reported UFO sightings are up in the Northern Rivers area near Brisbane.- Editor
From Australia's Northern Star:
UFO tracker Moira McGhee says seven new testimonies from Northern Rivers residents about recent UFO sightings are genuine.
Last week, the residents contacted Ms McGhee of the Independent Network of UFO Researchers after reading in The Northern Star on August 6 about two UFO sightings over Kyogle and Mullumbimby.
Other locals rang Ms McGhee last week claiming UFO sightings but she said there were inconsistencies in their accounts.
However, Ms McGhee did believe a Casino man who claimed on August 2 he saw an object similar to the one spotted at Kyogle that night.
"There were some small differences," Ms McGhee said.
"The other couple said it was orange and went from north to south but this man said it was a solid bright white light that went south to north.
"He saw it at 7.30pm on Thursday (August 2), which is 15 minutes earlier than the couple at Kyogle.
"He thought it might have been a plane but it remained solidly lit as it went past, and it probably wasn't a weather balloon because there's been no announcements from the Bureau of Meteorology."
Last week, a Nimbin woman contacted Ms McGhee claiming she saw a "dish with three little legs on it" over Tuntable Falls in early May.
"For about five to 10 minutes she saw an orange spinning light and it would go from white to orange," Ms McGhee said.
"Planes went above it and below it and it dimmed then lit back up when they'd gone. She got her binoculars out and said it almost looked like a dish with three little legs on it."
The witnesses will fill out formal reports to add to the organisation's collection of several thousand.
Ms McGhee said with every new sighting comes 20 new questions. She would not fully endorse or deny an extra-terrestrial theory.
"We're sending things to Mars, why wouldn't they be sending things to us?" she said.
"Out of all the hundreds of thousands of reports around the world, you just need one not to be of this earth."