MIlitary Jets follow UFO lights over King's Lynn, England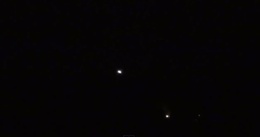 Mysterious flying lights over King's Lynn, England
A video of erratic lights flying over tree level was taken in King's Lynn, England on March, 8, 2012.  A few minutes into the video, jet aircraft swoop into the area. The video quality is minimal, but the videographer's commentary is detailed.
Tom Rose reports for Gather.com
A YouTube user filming strange lights outside his home in King's Lynn, England, says he's caught UK fighter jets on tape scrambling after a triangular UFO which has been buzzing his house for months.
The cameraman claims the unidentified flying object has been appearing nightly, hovering in the nighttime sky for hours, making barely a sound.
Multi-colored, oddly placed lights twinkle and flash, sometimes rotating around the ship, before the UFO "divebombs" into the nearby quarry at Bawsey Woods.
The YouTuber has a series of videos showing the nightly activity, but in the latest one below, there is finally a military response when two fighter jets streak across the sky.
The strange object immediately ducks out of sight as the jets repeatedly fly back and forth over the area.
The quality of the video is low, since it's in the early morning hours, but the running commentary gives context to the few lights clearly visible in the camera frame.
It's around the 6:25 mark in this video that the jets can be clearly heard and the triangular lights wink out. It's worth the wait.