Man shaken by 'close encounter' as he sees a UFO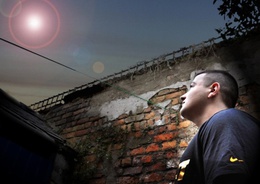 An artist's impression of the moment Billy Kirk spotted a UFO in the night sky
BILLY Kirk had an out of this world experience when he saw a UFO in skies above his Scarborough home in scenes reminiscent of Roswell.
Billy, from Ewart Street off Seamer Road, described seeing an intense white light, which was stationary, hover temporarily before it shot off at "thousands of miles an hour".
Scarborough UFO expert Russ Kellett added weight to Billy's claims when he revealed that he had heard several similar descriptions of unexplained objects seen in the Seamer Road area.
Billy said: "I'm still in shock. I can only describe it as a big ball of light. I was scared, I just ran in the house and said to my girlfriend 'I'm not going back out there'. I didn't know what to think.
"I've never been a big believer in things like that but I can't explain it. It definitely wasn't the Northern Lights, an aircraft or a Chinese lantern. I've thought of everything.
"I didn't want to say anything at first but I thought it should be reported. It could be a danger to our airspace."
Billy, who works for Senior Glass Systems in Eastfield, is now keen to find out if anyone else noticed the UFO, which he saw at around 10pm on Monday.
Mr Kellett added: "Stationary objects taking off like that just shouldn't happen. It couldn't have been a shooting star or anything like that.
"Around the Oliver's Mount area we have had some very strange stories about balls of light. I've heard similar accounts to Billy's in the past."
If anybody else saw the mystery object contact Daniel Sanderson on 01723 383867 or daniel.sanderson@yrnltd.co.uk