Malta police officer shoots alleged UFO image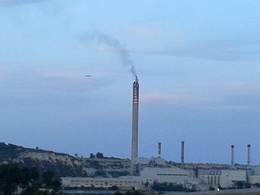 Photograph of UFO taken near Malta power planet by police officer. Credit: Attard
A police officer in Malta photographed what appears to be a UFO over the city of Marsaxlokk on the evening of March 19, 2013.
The officer did not notice the the mysterious craft until afterward, while reviewing the photograph he took with his cell phone. The officer immediately brought it to a photo expert, identified as William Attard M.
Attard submitted the photo on behalf of the police officer to UFO Casebook and added some filtered images to help reveal the flying object.
The police officer, who requested not to be identified, was taking pictures of smokestack at the Marsaxlokk power station at 6 PM when he captured the image.
Attard, who wrote that he is a "photographer and master photo editor by profession" claims the photo was not tampered with, and that the image is not a close up of a flying insect.
Filtered image of UFO shows more detail. Credit: Attard.
Attard commented on the UFO Casebook site:
Hi there... I am the person who has submitted this photo. As I have said in the report, the photo was not shot by myself, but by a Police Officer whom I personally know.
He shot around 4 photos in all, each photo being a mere second or two later then the previous one. While actually shooting the photos, he didn't see anything with the naked eye. Once he was going through the photos on his mobile phone, he then saw the anomaly and immediately gave me a call.
He immediately came over to my place, as I live a few kilometres away from the place in the photo, and I saw the images on the device first-hand.
My first reaction to the anomaly was that it could be explained as a passing insect or bird, however I then downloaded the image to my Mac from the device and took a closer look in photoshop.
May I add that I am a photographer and master photo editor by profession, and this photo was not edited in any way except for the three filters applied (as seen below the main picture). All filtered images are derived from the main image above.
When I took a closer look, I in fact noticed that in the main picture one can actually see a passing insect further upwards from the anomaly (just where the smoke ends). If you open the full size image, you can notice that the actual insect gives off a clear different result in the photo when compared to the anomaly.
I can assure you all that no tampering has been done to the image, no backdrop changing or anything of the sort.
The image is still in the officer's device; and I would gladly invite anyone to have a look at the image as shot...