Low flying triangle UFO reported over busy Alabama highway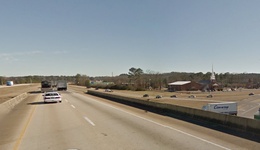 The witness was driving north at this location on Interstate 495 and Morgan Road SE, near Hoover, AL when he spotted the low hovering triangle UFO. Credit: Google.
A triangle shape UFO was reported flying in an unusual manner at tree top level over a busy Alabama interstate highway in the early evening of November 19, 2014.
The slow moving craft was spotted near Hoover, Alabama, at 5:55 PM, according to a witness report to the Mutual UFO Network (MUFON).
The unnamed, male witness was driving northeast on Interstate 495 when they spotted the craft hovering over a highway bridge near the Morgan Road exit. The witness initially thought the craft was a "small, two-seat airplane" because a local airport was not far away.
But the craft started to fly in a very unusual way.
The witness wrote, "All of a sudden this object turns upside down and goes back to the left. It stops and hovers. I was thinking, that sure don't act or seem like a small airplane (sic) ?"
As the witness drove closer to the object, the object became more strange looking.
"As I get close I see it's a black triangle craft hovering right over a bridge along I-459. I could not believe it. Someone else had to see it. The interstate was busy – but so far no reports on the news."
Unable to stop and take a photograph of the UFO because of the heavy traffic, the witness drove directly under the low flying craft and was able to observe it for nearly a minute.
"As I drove up I-459 and went under the overpass/bridge, I was right under this thing. Like I said, it was a dark triangle craft hovering. It had 3-4 lights on each side. They were white, bright like a big flood light. They were blinking on and off. One side the lights would blink 1,2,3,4. Then go dark. Then the other side would blink 1,2,3,4."
The witness reported that his aunt, who lives nearby from where he spotted the UFO told him that "something flew over her house."
The witness added, "She lives west of where I was – maybe about 5-10 minutes away. She said something was in the air coming over her house and made a strange noise. She did not see it, but heard something. Odd for sure."
Hoover, Alabama, is less than 100 miles southwest of the Sand Mountain region of Alabama, an area with a rich history of UFO sightings and related phenomena.