Large, fast boomerang UFO over Flint Michigan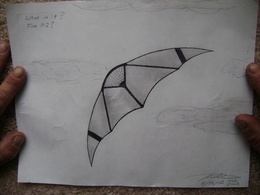 The witness provided an illustration of the object they claimed to see over Flint, Michigan, on the afternoon of November 18, 2012. Credit: MUFON
A witness in the Flint, Michigan, area reported observing a large, metallic boomerang shaped flying object on afternoon November 18, 2012.
The unmanned witness told the Mutual UFO Network (MUFON) that he and his co-workers were working outside at 2:20 PM when they stopped to watch hawks circling above them.
They noticed a UFO fly into their view at an estimated altitude of 5000 feet.  The witness described the object as being about 700 feet wide, boomerang shaped with sharp edges and "had a blur surrounding it." The witness provided a sketch of the object.
The witness reported that the object sharply changed direction an "took off" skyward at an estimated speed of 3500- 4000 miles per hour.  
It was not clear how the witness was able to estimate the object's large size and exceptional speed.  The daytime sighting is notable because it reportedly occurred between several nighttime UFO sightings in the Flint area on November 11 and 18.
Original (unedited) witness report:
November 18, 2012, 2:20 p.m., Flint Township, MI - metallic boomerang, 700ft.wide and suddenly acended at 3500 mi an hour. Case 44305.
I was at work, outside. My coworkers and myself noticed a cirle of hawks above our heads. We were looking at them, the air was still; no noise whatsoever. The object entered our view roughly a mile in elevation. It sharply changed vector and took off toward the sky at approx. 3500-4000 miles-per-hour. It was boomerang shaped with sharp edges and had a blur surrounding it; as if it was disturbing the air around it. Estimated 600-700 feet across and travelling at impossible speeds. I drew a picture of it.