Mexican military airplane records video of UFO fleet (2004)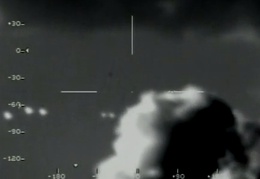 On April 20, 2004, Mexico's leading UFO journalist, Jaime Maussan was contacted by a high ranking officer of the Mexican Department of Defense for a private meeting to discuss an urgent matter.
The following day, Maussan met Mexico's Secretary of Defense, General Clemente Vega Garcia, and was briefed about an incident involving a Mexican air force plane in airspace over Ciudad del Carmen, Campeche, on March 5, 2004.
Merlin C26A
A Merlín C26A aircraft was on a routine mission to detect drug smuggling aircraft when they encountered a cluster of UFOs. The Merlin C26A was equipped with a high tech advanced digital equipment to register and record all the activities during the operation.
Aircraft crew that encountered UFOs
The crew aboard the aircraft recorded extensive video of the objects, and radio communication between the aircraft and ground controllers is heard on the video.
Maussan later obtained the remarkable recording and narrates the story in the video linked below.