Image of alleged hovering UFO goes viral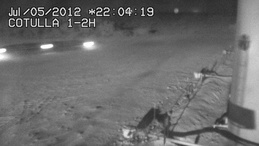 Alleged still image from security video camera of a strange object hovering near the ground at a Texas oil production facility.
An alleged image of a landed, or low hovering UFO in Texas has gone viral in recent days. The image shows a flat, thin looking object with three lights that reflect onto the nearby ground. It is a compelling image, at first glance. Further photo analysis may offer more insight into the photo's authenticity.
The lack of information offered in the report submitted to the Mutual UFO Network (MUFON) raises several issues that cast doubt on its legitimacy:

-No identification of the submitter.
-The claim that the image come from a camera operated by an "oil company here in -Texas." is unsubstantiated.
-No other of the supposed witnesses who work for the oil company and allegedly circulated the image have come forward.
-Only one still frame of the video was provided by the reporting witness.
-The witness claims to have seen UFOs before, and now represents this image as "proof of the existence of these entities." What entities?
Original (unedited) witness report:
July 6, 2012, 10:04 p.m., Cotulla, Webb County, TX - Hovering disk like craft with 3 lights hovering about a foot or less off the ground. Case 45031. My father works in an oil company here in Texas, and they had noticed that some people were taking the crude oil in the night. So they started putting cameras up around the areas. One night one camera caught a UFO. The news had spread throught the workers and they soon emailed to my father. My father had sent it to me and now Im posting it here on mufon. When I saw the picture I couldnt believe how the shape was, it was what I had expected. More so since it was also hovering off the ground. I was used to different ufos mainly because I have seen some since I was a kid. It really got to me that I now have proof of the existence of these entities.