Hudson Valley New York sightings may be nation's biggest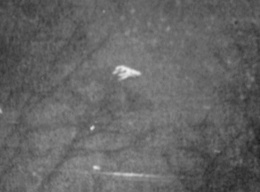 Photograph of a "humongous boomerang with lights" taken by a high school photography student in Mahopac, NY, at 8:45p on March 24, 1983. A beam of light can be seen projecting from the bottom of the UFO. Hundreds of people reported seeing the object over northern Westchester and Putnam Counties that night.
New York's Hudson Valley area may be the busiest UFO sighting corridor in the United States.
There have been UFO signings reported in the region, which spans both shores of the Hudson River north from New York City to Albany, and extends east to Connecticut and west over Rockland and Orange Counties.
The phenomenon reached it's zenith in the 1980's when thousands of people routinely saw massive UFOs hovering overhead, sometimes stopping highway traffic.
The region continues to experience reports of high strangeness, including disturbing abduction cases that sometimes span same family members over multiple generations.
UFOGrid is featuring the Hudson Valley UFO sightings in a special series of podcasts, with Linda Zimmerman, author of the new book, In the Night Sky: Hudson Valley UFO Sightings from the 1930s to the present.
In this episode, Linda discusses the many fascinating case studies that she gathered in her interviews with over 100 witnesses.