Hundreds of spherical UFO sightings reported in January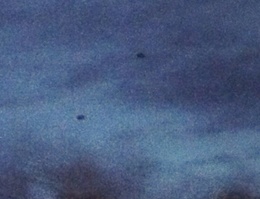 A couple riding in a vehicle in West Greenwich, RI, snapped of photo of what they described as two "hovering" black discs with no lights at 5:30 PM on January 31, 2014.
Nearly 300 UFO sightings were reported by witnesses to MUFON (Mutual UFO Network) during January 2014, according to the organization's National UFO ALERT rating system.
102 of the 289 sightings were reported in California, which is a jump over just 68 reported sightings in the Golden State during December.
There were 51 sighting reports in Texas, and 49 in Arizona during January.
According to MUFON, the vast majority of cases (240) were of reported spherical objects, some of which are often mistaken sightings of planets. Jupiter was bright in the January sky.
Other reported types of objects ranged from circle shape UFOs, fireballs and "star-like" objects. There were 87 reports of triangular shaped UFOs.
In 94 of the cases reported, witnesses stated that the observed UFO was within 100 feet of their position.
26 "landings, hovering or takeoffs" were also reported.
MUFON does not release witness names or much in the way of details or photo images, primarily because witnesses don't often provide greater information in the reports.
Therefore, the veracity of these reports are in question and typically offer only anecdotal evidence.