High strangeness returns to Alabama's Sand Mountain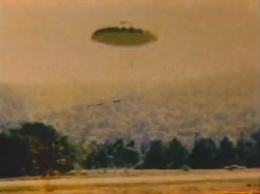 Daytime photograph of hovering flying saucer above a field in Valley Head, AL, in 1989. The saucer was spotted again in the same area within the last two weeks.
A "dark colored, flying saucer with white circles on its rim" was reportedly spotted in the skies above DeKalb County, Alabama, in the last two weeks.
Law enforcement sources in Fyffe, Alabama, told UFOGrid that the UFO resembled a disc shaped craft photographed 25 years ago in Valley Head, north of Fort Payne (see photo inset).
The now famous 1989 daytime photo was taken of the mysterious craft prior to the big wave of activity in the area that made headlines in the early 1990s.
The national press and public descended on the rural town of Fyffe after multiple sightings of giant triangle UFOs and mysterious unmarked helicopters, along with dozens of bizarre cattle mutilations that occurred simultaneously in 1992.
During the flap of the late 1980s into the early 90's there were so many sightings of large, triangle UFOs that residents and law enforcement officials nicknamed the low flying, 300 foot-wide craft, "Big Bertha."
Oftentimes, gruesome cattle mutilations were discovered by ranchers just after the mysterious craft were observed in the area, leading investigators to suspect a link. The mutilations remain unexplained, with many ranchers keeping mum about the bizarre fate of their cattle, fearing rejection of their loss claims by insurance companies.
Recent eyewitness reports suggest that high strangeness still is happening in the Northeast Alabama's Sand Mountain region, home to a rich history of Native American culture, including the origination of the Cherokee Trail of Tears and charismatic religious ceremonies such as snake charming.
In addition to new sightings of the flying saucer, recent sightings of another unidentified flying object, referred by the locals as a flying "green blob" has been reported, which was also observed at the beginning of the 1980s sightings wave.
In the 1980s, area witnesses reported to local police of seeing the sky turning to an orange color, with what looked like "pink cobwebs" also appearing, followed by UFO's emerging from them, as if a portal was somehow opening.
UFOGrid will report developments as they occur in the area.