Government investigation confirms UFO photographed over Chile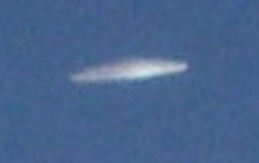 Close up of a UFO over Chile. Witnesses described the object as a brightly colored silver metallic, flat looking disc, 15-30 feet in diameter. Credit: CEFAA
An official report from Chile's office of UFO Investigations has concluded that witnesses at a remote copper mine in northern Chile photographed a UFO in bright daylight in mid-April of 2013.
Chile's official government office in charge of investigating UFO's, CEFAA (Committee for the Studies of Anomalous Aerial Phenomena) is part of the South American nation's Department of Civil Aeronautics, charged with domestic air safety and under the jurisdiction of the Chilean Air Force.
CEFAA analyzed the high quality photos taken during the sighting and ruled out all conventional explanations for the object.
The incident took place at the remote Minera Collahuasi copper mine, which lies on a 14,000 foot high plateau. Four mine employees were on site on the bright day, under clear blue skies when they watched the strange, disc shape object for over an hour. The four workers, versed in electronics, electricity and fluid dynamics said that the UFO moved vertically and horizontally in an intelligently controlled manner.
According to CEFAA's final report, the witnesses described the object as a brightly colored silver metallic, flat looking disc, 15-30 feet in diameter and flying at an altitude of approximately 2000 feet, which was close enough for one of the witnesses to photograph it.
The UFO was silent and eventually flew away from the area and to the East.
Photo analysis points to an "extremely luminous half sphere" on the bottom side of the UFO that suggests an on board high temperature, energy source.
The four decided not to share what they saw for fear of ridicule. Months later, in February of 2014, the witness who photographed the UFO showed the images to copper mine's chief engineer, who submitted them to CEFAA. The four witnesses and the chief engineer, who investigators consider to be of sound mind have asked not to be identified and did not cooperate with CEFAA's investigation.
The UFO as the witnesses saw it from the ground. Credit: CEFAA
CEFAA experts, including aviators and meteorologists analyzed the photographs and ruled out a cloud formation and other atmospheric conditions, birds, conventional or experimental aircraft including drones, which are well understood in the area.
Though the images show a solid object reflecting sunlight, CEFAA concluded that the object was emitting its own light, possibly from a high temperature energy source, described in the report as an "extremely luminous half sphere" on the bottom of the craft. CEFAA investigators determined that the bottom light could not be a reflection of the noon-high sun that was directly above the UFO.
The compelling photographic evidence, which was thoroughly reviewed by Chile's government and widely publicized in South America, led CEFAA to conclude that the object was an unknown, or UFO. The unsolved case goes on record for future reference.