Giant UFO confirmed by Chile Government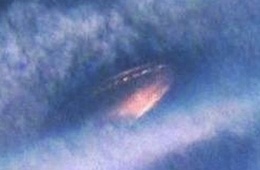 Photograph taken of giant UFO over Chile. The photo has a diffused appearance, resembling a watercolor painting. Credit CEFAA
A recent picture taken in Chile of an alleged UFO "twice the size of a stadium" is authentic, according to an official investigation in that country.
The findings were announced by The Committee for the Study of Aerial Anomalous Phenomena (CEFAA), an offical Chilean government agency that was formed by Chile's Directorate of Civil Aviation in 1997 and is charged with pursuing credible UFO cases that pose safety risk to air traffic in the nation's skies. The story was initially reported by Inexplicata-The Journal of Hispanic Ufology.
The image of the giant UFO was taken at El Yeso Reservoir in central Chile, about 30 miles east of Santiago by a couple from Venezuela living in the area.
Image of UFO and surrounding clouds. Credit CEFAA
CEFAA's Director, Gen. Ricardo Bermudez (Ret.), announced that his agency has concluded that the image is genuine after it was examined by optic experts in Chile and the United States, who both reached the same conclusion- that the photo is not a hoax, the light on the object matches the surrounding clouds, and that the object is emitting its own light, with a series of visible portholes.
The size of the object, estimated to be twice the size of Chile's huge National Stadium was confirmed by a CEFAA staff meterologist, who compared it to the surrounding clouds in the photograph, normally seen in the area at the time the picture was taken.
The UFO seen at the El Yeso Reservoir near Santiago, Chile, was twice the size of the National Stadium, according to an official investigation.

Gen. Bermudez added, "We do not know what it is or where it came from, but the anomalous aerial phenomenon described as an unidentified flying object is real and we have the proof and the eyewitness accounts to support it."
Bermudez, who was a jet fighter pilot for the Chilean Air Force, said that on average, 3% of witness reports they receive remain unexplained, including this sighting, which they have nicknamed "The Clam" for its shape.
CEFAA Director General Ricardo Bermúdez.

Thanks to Inexplicata, Planeta UFO and Terra Peru for translation.