Four UFOs scan ground in Florida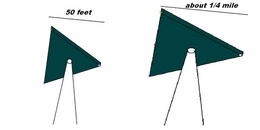 The witness illustrated the smaller and large UFOs spotted in Florida.
A witness in Florida reported observing four triangle UFOs that appeared to be scanning the ground area below them on the evening of September 16, 2012.
The unnamed witness reported their sighting the Mutual UFO Network on December 12, nearly three months after the alleged encounter.
The witness was driving westbound on Interstate 10 in the Jacksonville, FL, area at 9:10 PM when they noticed lights in a triangle formation with a beam of light projecting from the craft to the ground below.
As the driver approached the lights, they appeared to be attached to a craft shaped like a solid triangle, about 50 feet across.
The witness reported spotting two more of the same looking crafts within another five minutes.
Two minutes later a fourth, much larger craft was seen. The witness described the larger object as "about 1/4 mile in size with lights on all corners."  
The larger object was also scanning the ground with a light that was "turning sharply."
The objects flew out of view of the witness, who submitted an illustration of both the smaller and larger observed UFOs.
Original (unedited) witness report:
September 16, 2012, 9:10 p.m., Jacksonville, FL - moved in a path slowly. Case 44317.
i was in my car headed west on I-10 and i was just looking around and i saw some lights in a triangle formation and one beam of light that appeared to scan the area, as it got closer it appeared to be a solid triangular craft about 50 feet across, i saw two more of these craft within 5 mins. approximately 2 mins later i saw a fourth triangular craft about 1/4 mile in size with lights on all corners and a light scanning the area turning sharply, after it went out of view i grabbed a notebook and wrote down the detentions of each craft, location, and time the event occurred.