Former Senate leader calls for serious UFO study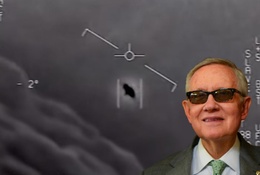 Former US Senator Harry Reid funded a Pentagon UFO study that resulted in the public release of stunning high-tech UFO footage taken by US Navy pilots in 2004.
A former US Senator wants the government to pursue more UFO research.
Former Senate Majority Leader Harry Reid D-NV, is pressuring his colleagues still in Congress to devote more resources and less shame to the subject.
Reid told "The Hill" that there's enough witness testimony and evidence to warrant serious study of UFOs and related phenomena sightings over land and sea. "We have hundreds and hundreds of people that have seen the same thing — something in the sky, it moves a certain way."
Reid, who secretly funded UFO research while he was in the Senate believes that military pilots and other government witnesses should be able to come forward about their encounters without risking their careers. Both military and commercial pilots have withheld their witness accounts for fear of creating a personal "resume event" that could call into question their judgment and mental state, potentially damaging career advancement.
"The facts are, they need a place to be able to report this, and that's what I'm going to work on in a couple of hours, to make sure that somebody I think's a powerful member in Congress, I want him to be able to sit down and talk to some of these pilots who have seen these things," Reid said. "I can arrange this because of the contacts I have with members of the Congress."
Despite funding a secret study of military encounters with UFOs that shook the world when the New York Times broke the story in December 2017, Reid says more needs to be done. "Frankly, I think the federal government has done almost nothing to help us with this," Reid said.
Reid said that he repeatedly visited the secret Area 51 military base in Nevada where experimental aircraft are developed and tested. To the south of Area 51 is a sister base, known as S-4 where retrieved UFOs have reportedly been flight tested and back engineered.
Reid awarded a 22 million dollar bid to a fellow Nevadan, Robert Bigelow of Bigelow Aerospace to conduct research for a secret Pentagon UFO study in 2008.
Sources told Out There With Ted that the government contracted Bigelow to receive UFO reports and even UFO artifacts for study at a specially prepared clean room at Bigelow Aerospace's facility in North Las Vegas. The New York Times reported that Bigelow Aerospace was storing "alien alloys" at the facility. One advantage to outsourcing or privatizing secret studies to non-government contractors like Bigelow is to skirt Freedom of Information requests by civilian investigators.