'Flying wing' seen over Dallas, Texas area
Witness description of where he saw the UFO over Garland, TX.
Several UFO sightings have been reported this week in the Dallas-Fort Worth area of Texas.
A witness in Garland, TX, reported seeing a silent, "flying wing" craft on the evening of October 20, 2012.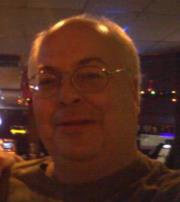 Robin Croley
According to report submitted to the Mutual UFO Network (MUFON), Robin Croley was skywatching outside his home when he noticed a "dark grey / silver object" that was the shape of a flying wing without a fuselage.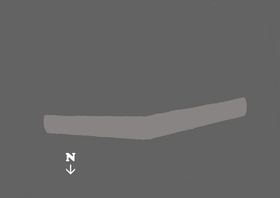 Croley's illustration of the "flying wing."
In addition to being silent, the Croley reported that the craft had no aviation lights and appeared to be three to five times larger than the wingspan of a commercial aircraft. He estimated that the craft was flying at an altitude of between 5000-10,000 ft.
Croley observed the object for 20 to 40 seconds before it flew out of his view to the north.
Croley described what he saw on a local radio station.
Original (unedited) witness report:
October 20, 2012, 7:49 p.m., Garland, TX - Flying Wing UFO No Lights No Sound Overhead Garland TX 10/20/12. MUFON Case 43464.
On the evening of Saturday, October 20, 2012 I was at my residence at (address moved to FI Box) cms 10/22/12 flg Street Garland, TX, a house with a front door that faces South and which is the last house on the left of a dead end street. My electricity is currently disconnected due to financial hardship and my cell phone battery ran low, so I took it out to my car and plugged it into the charger. I decided it was a nice, cool evening so I went inside, got my cola and came back outside and sat on the west side rail of the ramp to the front porch at about 6 to 7 feet away from the porch.
I sat there facing East / Southeast with my right knee up on the rail enjoying the breeze and looking out into the field next to my house as well as turning and looking down my street from time to time.
The sound of a jet caught my ear and I looked up to the West / Southwest and spotted the plane. It was traveling towards the East / Northeast and as it went past the zenith of my point of view, I turned my head to the East to continue to track its flight.
As I did so, some movement at the left edge of my field of view caught my attention. I turned to see a dark grey / silver object that appeared to be just beyond my house that at first I thought must be a cloud, but as I focused in on it I could tell it was actually some type of aviation craft. It was of a flying wing shape with no fuselage.
It was at about half the altitude of the airplane I had been watching and about a 45 degree angle above the horizon. It immediately struck me as odd that this vehicle had absolutely no navigation lights and there was no sound what-so-ever coming from it. So my next thought was, is this a B2 Stealth Bomber? I said to myself no, as this first was not the shape of the B2 as it had no fuselage behind the wing and as I got my distance and size perspective I realized that this object was at least 3 to 5 times larger than the wingspan of a commercial jet. Plus I assumed that the B2 while elusive of radar must make some type of sound and I did not feel that the military would be running at normal air traffic altitudes without navigation lights.
So I came to the conclusion that what I was observing was truly unidentifiable and logically unexplainable by me. I continued to watch the object as it maintained a straight line path just a few degrees to the East of North and I was able to watch the vehicle for a total duration of about 20 to 40 seconds before it faded off into the darkness.