"Fleet of UFOs" reported near Tampa, Florida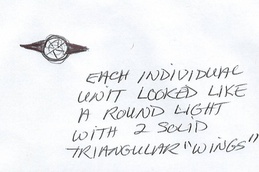 The witness provided an illustration of the objects they witnesses on the afternoon of January 31.
A witness has reported seeing a "fleet of UFOs" on a bright, cloudless afternoon in Riverview, Florida, on January 31, 2013.
The unnamed witness told the Mutual UFO Network (MUFON) that they had turned off Highway 301 in Riverview and parked to make a telephone call at 2:30PM when they looked skyward and noticed what first appeared to be a flock of "white birds or balloons."
The group of objects flew in a slow formation.
The witness looked through binoculars that they had in the car and was "amazed" to see that they were not birds or balloons, and "couldn't comprehend" what it was.
The identical looking objects were described as "round, white lights with a somewhat reddish tint, with 2 dark, solid triangular fixed appendages on each side."
The objects flew in a close and steady pattern from each other. One or two of the objects would drift apart from the rest of the formation at times and then return to formation.
The witness looked away from the binoculars for a moment and when they resumed, the objects had vanished from view.
The witness reported that they observed the objects for five minutes before they disappeared, and that they were similar looking to the formation of UFOs videotaped by a Mexican Sir Force crew on April 20, 2004: http://ufogrid.com/ufo/articles/jaime-maussan-narrates-mexican-military-ufo-video
The witness said that they thought about what they saw for days after their encounter, and even unsuccessfully tried to explain away the sighting as a flock of birds. The more the witness thought about what they saw, the more convinced they became that they were UFOs, according to the report.
Original (unedited) witness report:
I parked my car just off HWY 301 In Riverview, Florida to call on a client. I happened to look up at the sky (crystal blue, totally cloudless) and spotted what first looked like a flock of white birds or balloons, but in a very strange pattern and moving slowly and all in unison. I had binoculars in the car, and looking through these was amazed to see they were not birds or balloons but yet couldnt comprehend exactly what I was looking at. They appeared to be round white lights with a somewhat reddish tint, with 2 dark, solid triangular fixed appendages on each side. They all looked exactly the same with one or 2 drifting away at times and then a few drifting back in to join the rest. They traveled slowly in a straight path across the sky from a NE to SW direction, all maintaining approximately the same position from each other, keeping the overall pattern of the group fairly consistent. I removed the binoculars for just a few seconds to get my bearings, but when I looked back through them, they were gone. I estimate the total viewing time to be about 5 minutes. Still could not comprehend what I just saw, but realized the sight was similar to what I have seen on the History Channel that was a "fleet" of UFOs seen in Mexico. That is pretty much exactly what this looked like and the best way I can describe it. Thought about this sighting for days trying to rationalize it and convince myself they must have been birds, but the more I thought about it, the more confident I was that they were not.In my opinion, unidentified flying objects for sure.