Flaming objects fall to Earth in China - Russian rocket suspected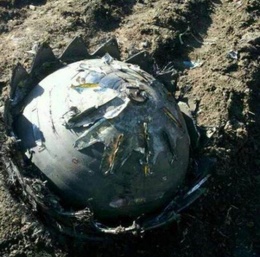 Photo of object that crashed into a Chinese village. Credit: Chinanews.com
Villagers in rural China were startled by a loud noise in the sky and the sight of a "huge ball of fire" falling into a vegetable garden on Friday, May 16, 2014.
Three mysterious, spherical metal objects with jagged edges landed in Mengchang village in the province of Heilongjiang, according to Yi'an County government officials.
A resident said, "I saw a huge ball of fire, I thought it was a meteorite. I hid inside my house and waited until the object has landed."
ChinaTopix reports that Government investigators and Chinese media suspect that the objects are debris from a Russian Proton-M rocket that exploded 10 minutes after take-off from Kazakhstan, while attempting to launch a communications satellite.
It is the second Proton rocket to fail in the past year.