Five flying discs in formation reported in near Los Angeles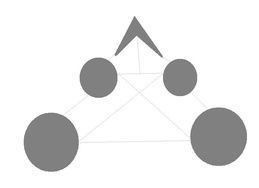 The younger witness illustrated the formation of flying discs they reported seeing near Los Angeles on the afternoon of January 1, 2013.
Multiple witnesses have reported two UFO sightings in as many days in San Dimas, CA, including a daylight sighting of several craft flying in formation.
The sighting occurred in daylight at 3:45 PM on January 11, 2013, about 25 miles east of downtown Los Angeles.
A grandmother and her grandchild were driving on West Arrrow Road when the grandchild "caught a glimpse" of four, shiny metal discs that were led by a fifth, "V" shaped object.
In a report to the Mutual UFO Network (MUFON), the grandmother described the objects as looking like planes flying in formation, but that the objects were all "V" shaped.
The two "shocked" witnesses observed the objects for about 15 seconds before they disappeared.
Both witnesses submitted illustrations of their sighting.
The Grandmother witness recalled that all the discs flying in formation were "V" shaped.
The evening before, at 6:52 PM on January 10, a witness reported to MUFON that they observed "an intense bright orange large star-like object flying in sky in a straight line" until it disappeared over the eastern horizon.
The witness was driving eastward in San Dimas when they observed the fast flying, solid and steady light for about 10 seconds.
The witness at first thought that the object was a flare or meteor, but thought otherwise after observing that it left no tail, and flew in a direct line and at a steady speed.
Original (unedited) witness reports:
Sighting Report #1: My Grandma and I Were Driving Past Dennys on Our Way Home and I Caught a Glimpse of Four, Shiny, Metal Discs With a V Shaped Disc in Front. My Grandmother Described it as Planes Flying in Formation, But, It Wasnt. Instead, She Saw 5 V Shaped Objects Flying in a V Pattern. We Caught Glimpse of This For 15 sec. or Less. I Was Shocked and So Was My Grandmother. I Reached to Get The Phone, But When I Looked Up, My Grandmother Said it Had Orbited Faster and Vanished.
Sighting Report #2 2013-01-10 6:52PM: I was driving East on Adams Ave from Arizona St. when I saw at 45 degrees in the Eastern sky ahead of me an Intense bright orange large star-like object flying in sky in a straight line and it disappeared over the Eastern horizon. It was solid and steady and did not waiver. I thought it was perhaps a flare or meteor but there was no tail. It was steady and moved fast and smoothly for the 9 seconds I observed it.