Fast, odd moving light videotaped over Belfast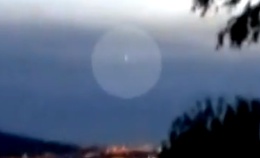 Still frame from video of odd light near Belfast, UK.
An erratically flying object was video recorded near Belfast, UK on May 23, 2013.
The Ralston family spotted the odd light and began to take video of it from their Holywood home at about 9 PM. As dusk turned to night, the light became more evident.
The family speculated that it may have been a Chinese lantern, but as seen in the video, the light is moving too quickly for an inflatable device or lantern.
UK air traffic controllers in the area have been unable to identify the UFO, and no other reports of unusual objects at the time have yet surfaced.
The object was seen over the Belfast Lough, a natural inter-tidal sea at the mouth of the River Lagan on the east coast of Northern Ireland.