Fast flying UFO captured on video in Utah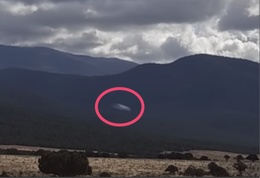 Blurred still frame image of fast flying UFO spotted near Beaver, Utah.
Video of an extremely fast UFO has become an Internet sensation. The footage was captured by a camera mounted on a drone near Beaver, Utah, in October 2016 and released this month.
The object was spotted after the shoot when the camera operator reviewed the footage.
The craft is flying so fast that it appears to travel many miles in just a couple of seconds. At a speed estimated to be several hundred to thousands of miles an hour, still frames of the object are blurred, making it difficult to see its true shape.
The craft appears to fly out of a mountain canyon several miles in the distance, then banks to the right and flies just past the drone.
On closer inspection, the object does not appear to be a bird or an insect flying close to the camera lens, which are commonly mistaken for fast flying UFOs.
The videographers who shot the video said they hesitated for years to release the footage for fear that they "maybe caught something on camera that we really shouldn't have."
There is an excellent analysis of the video on YouTube.