Tense moments during UFO encounter recorded between airline pilots, air controllers (1995)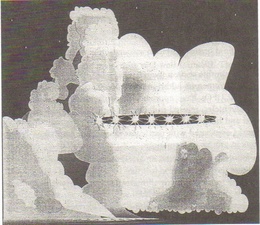 Copilot's drawing of UFO observed against thundercloud. Credit: John J. Waller
At around midnight on May 26, 1995, American West Flight 564 was cruising westbound over the Texas-New Mexico state line near Bovina, Texas, at 39,000 feet when the flight crew spotted a huge UFO flying at approximately 30,000 feet toward the vicinity of Roswell, New Mexico. 
Real drama unfolds in this ten minute FAA audio recording as the three witnesses in the Boeing 757 cockpit, clearly disturbed by what they have just seen, urgently report a large, "eerie looking" object flying near their airspace.  First Officer John J. Waller and a flight attendant spotted the 300-400 foot long UFO at some distance between their aircraft and a nearby thunderstorm.
America West Boeing 757.
The flight crew reports that the "unbelievable" looking object suddenly appeared to them as it was backlit by a flash of lightning in the distance.   The pilots notice a strobing light, apparently spinning around the edges of the object, illuminating the thunderhead clouds behind it.  The young sounding pilot at the microphone is clearly alarmed.
In this audio recording you will hear the crew report the sighting in real time to air traffic controllers in Albuquerque.  Nervous laughter is heard among ground controllers as plausible explanations are stripped away, with one controller saying, "this is not good".  
America West 564 radio transmissions during their UFO sighting over New Mexico in 1995.
Other passing airliners are instructed to look for the object.  Pilots in the air are noticeably concerned that a huge, unknown object could be flying near them.  Meanwhile, the crew who spotted the UFO huddle in their cockpit, obviously in shock over what they have witnessed.  
As they begin to transmit details of their close encounter to air traffic controllers, the airwaves are suddenly jammed by other pilots speaking all at once on the same radio frequency.  The resulting high-pitched tone cancels out what may have been remarkable, first hand details from trained observers with excellent eyesight.
During the event, an air traffic controller contacts North American Air Defense Command (NORAD), who after taking the call, reported that an object was tracked by radar darting from a stationary position to speeds of up to 1400 mph.