Double diamond shaped object reported over Georgia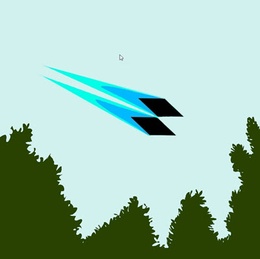 Witness illustration of the double diamond shaped object seen over Macon, GA.
Two "double diamonds" were reported flying over Macon, GA in April. The witness reported the 5 minute long sighting to the National UFO Reporting Center (NUFORC).
The witness (name withheld by NUFORC) spotted the object close to the horizon on April 4 at 6:55 AM. The UFO was descending and appeared to be "enveloped in flames" and had a "double, long blue white double tail."
The object itself was dark colored. The "amazed" witness reported that the object made a slow, 20 degree linear descent and did not appear to be a meteor, which the witness is familiar with. If the large object was a meteor, the witness added, "it would have cause a massive impact and explosion."
The object eventually descended from view as it dipped behind the tree line on the horizon.