The Curious Case of Reinhold Schmidt Leads to Psychiatric Hospital, Criminal Conviction

Reinhold O. Schmidt
On Oct. 5, 1957, 48-year-old Reinhold O. Schmidt said he stumbled across a spaceship when his car stalled near the Platte River in Kearney, Neb.  Schmidt said he was invited inside to chat with the humanoid occupants – four men and two women, who spoke both English and German.  The ship looked something like a Navy blimp but had propellers like a helicopter, he said.  And one of the male aliens briefly paralyzed Schmidt with what looked like a flashlight, he told the media.
"I was in the ship 20 to 30 minutes," Schmidt said in a United Press International story that appeared worldwide the next day.  He quoted the beings as saying, "We'll have to be here a little while – you may as well come inside."
A local farmer seemed to support Schmidt's story, saying his car also stalled at roughly the same time and place.  But authorities doubted the account of the California-based grain salesman from the start.  Scottsbluff County Sheriff Steve Warrick quickly discovered Schmidt, a former potato buyer in Scottsbluff, had served time in the Nebraska Penitentiary for embezzlement.
Several weeks later, after an investigation, the U.S. Air Force announced Schmidt's claim to be a hoax.  And following a psychiatric examination, Schmidt was briefly committed to Hastings State Hospital.
Within months, Schmidt was on the lecture circuit, giving paid talks about his experience.  And several months after his first encounter, Schmidt said he had another contact with the same beings near Elm Creek, Neb.  Less than a year after his initial claim, Schmidt published a book: "The Kearny Incident Up To Now."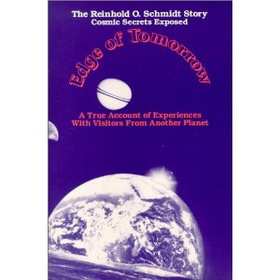 But less than four years after the Kearney incident, Schmidt was convicted in Alameda County (Ca.) Superior Court of bilking a Bakersfield widow of $5,000 in a "flying saucer hoax."  He told the jury he had been taken aboard an alien craft several times and, on one of the flights, has discovered "free energy crystals."  The widow, 61-year-old Eva Newcomb, said during the October 1961 trial she agreed to give Schmidt the money after he told her the crystals would help heal crippled children.