Crowded skies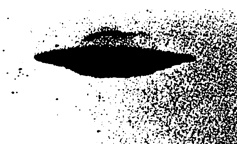 New Government files reveal an array of unexplained objects has been spotted hovering in our sides.
Records held by the Ministry of Defence (MoD) show seven UFO (unidentified flying object) reports have been logged across Wearside and East Durham since 1999.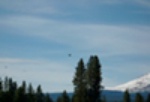 And the Echo's archives show the area may be a hot spot for extra-terrestrial beings.
MoD reports confirm one UFO incident at Sunderland, when a lone silver pyramid-shaped object was reported during October last year.
Two incidents of UFO activity were reported at Seaham, and a further two at Hetton. One incident was recorded in Durham, and one in Peterlee.
But Echo readers have been involved in close encounters since the 1950s.

Most dramatic was the tale of former Sunderland soldier Gordon Brown, who claimed to have seen a flying saucer above the pitch at Roker Park on September 22, 1951.
He spoke to the Echo in December 1993, after he claiming he had been sworn to secrecy by MoD experts, who linked his sighting with the famous Roswell incident.
The then 64-year-old appealed for witnesses and said the episode had dominated his life.
A large, bright object was spotted streaking 'across the skies over Sunderland on New Year's Eve 1978.
Scores of Wearsiders contacted the Echo to report the mysterious fireball, but military experts claimed it was part of a Russian spacecraft re-entering the Earth's atmosphere.

In September 1980, a silver flying saucer was seen hovering above houses on Deptford Road in Millfield, Sunderland.
Iris Turner, who spotted the mysterious silver craft, said it moved "like a frisbee".
In the same year, cigar-shaped objects were spotted silently circling the former Sunderland Airport.
A bright "star-like" object identified three friends after it shot in front of their car in. the early hours of August 27, 1988.
Civil servant Steve Barksby, then 22, of Shiney Row, sister Jill, and friend Tara Patterson, saw the mystery light as they drove from Great Lumley to Shiney Row.
Just a few weeks later, pensioner Lily Bluett, of Nookside, Sunderland, was woken by an unexplained bright light.
The skies were silent around Wearside until August 1993 when there was another UFO flap.
Bright lights were reported in separate sightings over Seabum and Southwick. One amazed onlooker even captured the event on video camera.

The mystery deepened after experts at RAP Boulmer in Northumberland confirmed there was no aircraft activity in the area.
A spate of sightings in April 1996 led to a flood of calls to Newcastle-based UFO experts.
The Probare Institute, which logs flying saucer sightings, reported strange craft over Thornhill, Hendon, and a pub in Ashbrooke.
But the incidents could have a simple explanation.
In May that year, The Echo received scores of calls from readers reporting mysterious circling lights over the city.
But the "spaceships" were found to be giant searchlights hired for the opening of Sunderland's then new nightspot -the Nite Klub in Newcastle Road.
Visitors from another world could have made a return trip to the area in October 2000.
A five-foot pear-shaped piece of silver metal was spotted hurtling towards the ground by a trainee teacher in Hendon.
Ron Atwill saw the same object narrowly miss a passenger jet as it made its descent towards Newcastle Airport. while walking his dog near the old Herrington Colliery site.
The retired prison worker said: ''I was looking up as a passenger jet was flying quite low in the distance on a flight path between the colliery and Penshaw Monument and I saw this thing almost hit it."
A spokesperson for Newcastle Airport said the pilot on board had reported no sightings.