Couple photograph bright, flying objects over California and Oregon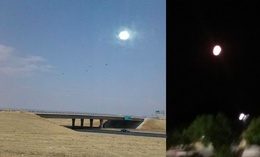 Two photos of a similar looking UFO. The daytime picture was taken this week over Lincoln, CA, with a group of helicopters flying nearby (left of object). The witness claims that the sun was to the left and out of camera frame. The nighttime image was taken over Interstate 5 near Grants Pass, Oregon, about three weeks earlier. Credit: UFOGrid.
A couple in northern California reported observing a brightly lit, unknown flying object on two occasions recently.
Todd Bercier was driving to his home on, or around August 29 when he spotted and photographed a moving object over Lincoln, CA.
His wife, Jennifer Bercier, told UFOGrid that Mr. Bercier, age 48, departed the Thunder Valley Casino in the midday hours when he noticed the extremely bright object flying over Highway 65 near the 12 Bridges exit. The object reportedly was flying at the same speed and direction as a cluster of nearby military Apache helicopters. Bercier said that the helicopters were flying from the direction of the Sacramento area and toward Marysville, CA.
Jennifer Bercier, 35, told UFOGrid that she witnessed a similar looking flying object about three weeks ago just after midnight, about 300 miles to the north, over Interstate 5 near Grants Pass, OR. They both took photographs of what they witnessed.
Bercier did not alert the police, fearing that authorities would, "think we're nuts, if we report that kind of thing."