Cluster of strange lights videotaped over Baltic Sea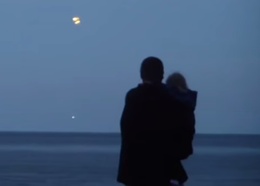 An adult and child watch strange lights over the Baltic Sea, off the coast of Poland on September 9.
A cluster of strange lights over the Baltic Sea off the coast of Poland were videotaped for several minutes by witnesses of the event on the evening of September 9, 2014.
The lights appear to be in a tight and changing formation in the video, with some of them "falling to the sea" in intervals, according to the poster.
The video was posted to YouTube by Riese Olbrzym, who wrote that the lights appeared twice, a few minutes apart at around 6:17 PM, local time. The video shows both sightings.
Unfortunately, the camera's auto focus was switched on, causing the image to blur several times as the camera attempted to focus on the distant lights in the darkening sky.