"Chilling" lights fly over car in Providence, Rhode Island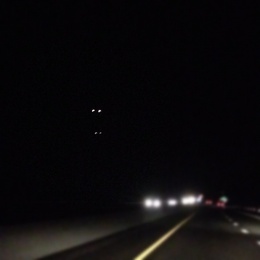 The witness reported two sets of lights that moved silently over I-95 in Providence, RI, on November 15, 2012. Credit: MUFON database.
A witness driving on I-95 in Providence, Rhode Island, spotted two sets of three bright lights, with two blue lights following behind them at midnight on November 15, 2012.
The witness told the Mutual UFO Network (MUFON) that the lights flew very slowly and directly over their car as they were driving west on I-95.  At first, the witness thought they were street lights, until it was evident that they were moving.
As the lights passed overhead, the witness looked up and saw two groups of lights; three bright, white lights and two blue lights "offsetting the white ones."
The lights flew over silently and did not flash or blink.
The witness said that they had never before seen light formations like them, and that they "gave me the chills."
Original (unedited) witness report:
November 15, 2012, 12 a.m., Providence RI - 2 sets of 3 bright white lights and 2 blue lights behind them. Moving very slowly, if at all directly over my car. Case 43982.
Driving west on 95, I spotted a few lights. Though they might have been street lights but as I got closer I saw they were moving, but very slowly. I get even closer and they look like thy will be going directly over my car. As I pass underneath I look up and see that there are 2 sets of groups of lights. 3 bright white lights with 2 blue light offsetting the white ones. They made no sound. No blinking lights. I've never seen any light formations like this and move so slowly. Gave me the chills.