Camera captures UFO streaking across NH daytime sky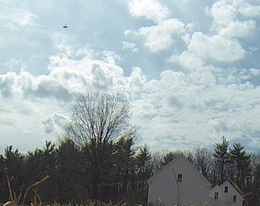 A fast flying UFO was captured on video in Derry, New Hampshire, on April 12, 2014. Click on image to enlarge.
A very fast flyover by a UFO yesterday in broad daylight was reported by a witness in Derry, New Hampshire.
The unidentified witness reported to The Mutual UFO Network (MUFON) that an HD video camera attached to a quadcopter captured the image as the witness was preparing to launch the vehicle. He did not notice the object until later reviewing the video.
The object was moving so rapidly that less than a second of information was recorded, about 12 video individual frames in all. The high resolution video did offer some details of the UFO.
The object flew in a long, straight line, discounting the possibility that the object was an insect flying close to the lens. The shape of a fixed wing or protrusion can be seen on the top of the object.
UFO researchers and indigenous people alike have told UFOGrid that many UFOs move too fast for the human eye to see, and this video would support the theory.
Only a camera that happens to be aimed at an object and recording at the time of a flyover would capture a highly accelerated flying object, and even that would yield little visual information if the camera is recording at a normal speed of 24 frames per second, as was the case in this video.
Original (unedited) witness report:
April 11, 2014 had a HD camera attached to a small RC quadcopter waiting to launch. The images were noticed in processing of the video.
Filmed at 1440 res from distance duration 1 sec or less