Call out to military witnesses of UFOs over missile sites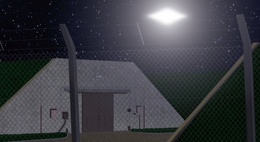 The leading researcher into UFO sightings by military personnel over nuclear missile launch sites is calling for more witnesses to step forward.
Robert Hastings has studied the well documented history of UFO interference with nuclear arsenals in both the United States and Russia.
At times, nuclear launch systems have been disabled during the close encounters, causing alarm in the ranks.
Currently, Hastings is chiefly interested in sightings occurring during the October 1962 Cuban Missile Crisis, as well as those that took place over the past decade.
However, he is also seeking information relating to any UFO sighting involving nuclear weapons. Hastings hopes to publish as many reports as possible, once they have been vetted, but requests for confidentiality will be honored.
Hastings has interviewed more than 130 military veterans who were involved in UFO encounters at US military sites, weapons storage facilities and nuclear bomb test ranges.
The reported UFO encounters date back to the cold war and have occurred as recently as October 2012 in Montana.
Hastings has published several articles detailing UFO sightings near nuclear missile sites: http://www.ufohastings.com/articles.
On September 27, 2010, Hastings hosted the UFO-Nukes Connection press conference at the National Press Club in Washington DC, (see below) during which seven US Air Force veterans discussed UFO incursions at nuclear weapons sites during the Cold War era.
Hastings has spoken to over 500 colleges and universities across the United States to raise awareness of the phenomenon, believing that US citizens and people worldwide have a right to this remarkable information.
Hastings has said in the past that he believes the intelligence behind the UFOs and their disabling of our missile defense is over concern for the long term survive of humanity and the planet's environment. He considers the activity as a warning to us that man is "playing with fire" with nuclear weapon technology.
Hastings may be contacted at ufohastings@aol.com.