Buzz over Antarctica orb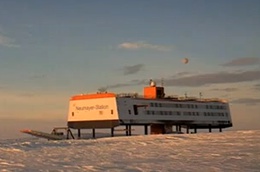 Image of alleged orb over German Antarctic research station.
There's been internet buzz this week about an image of an orb-shaped object hovering above a German science research facility in Antarctica, the Neumayer-Station III.
Fox News published the story, adding a link of a You Tube "video" of the round image, floating above the station and reflecting sunlight.
It looks like a weather balloon, which would not be an unusual sight above a science facility, as they are routinely used for meteorology and atmospheric chemistry research.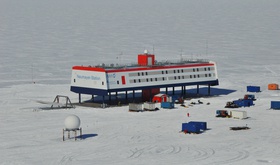 Neumayer Station in Antarctica
Suspicions raised over the brief appearance of the round object may be explained because the video is a sequence of time lapse images, with just a single photograph snapped every few minutes.  The balloon may have been floating above the station for several minutes, but only one or two photographs may have been taken of it.
The image does not indicate any unusual behavior by the object. 
Perhaps the crew aboard one of the loneliest outposts on earth is enjoying the attention.  Hopefully, they can provide confirmation of whether a balloon was launched at the time the image was taken.