The Betty & Barney Hill Collection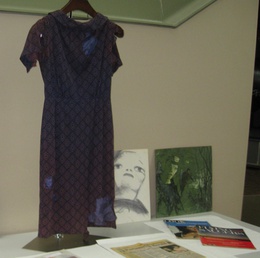 The dress that alleged UFO abductee, Betty Hill wore on the night of her encounter.
No, it's not a new couture fashion line.   Alleged UFO abductee Betty Hill's dress is on display at The Discovery Center, in Concord, NH.  The exhibit opened in September, 2010, and is on loan to the science museum from a local University.  Evidence that UFO abductions are taken seriously by the science establishment, at least when it comes to selling tickets
From the Exhibitor:
50 years ago, Betty and Barney Hill, a couple from Portsmouth, NH, experienced an alien abduction in the White Mountains which remains a mystery to this day. In honor of the 50th anniversary, the Discovery Center will be hosting the Betty and Barney Hill Collection on loan from Milne Special Collections, University of New Hampshire Library.