Another alleged UFO photographed entering Mexican volcano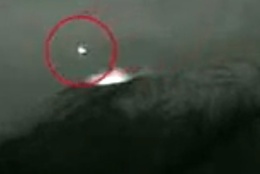 Image of alleged UFO entering the Mexico's Popocatepetl volcano may be a conventional aircraft.
An active volcano just south of Mexico City has gained much attention in past months, due to controversial images taken of what appears to be speedy UFOs flying directly into the mountain top crater.
The latest images to suggest the phenomenon were taken on May 31, 2013. The video has gone viral, with many news agencies picking up the story.
The video is actually a time lapse sequence, meaning that it is a sped up collection of still images. In reality, the object flying near the Popocatepetl volcano was moving much slower than is represented in the footage.
When you slow down the movement, it becomes very possibly that the image is of a conventional aircraft flying near or behind the volcano. The object may be descending behind the mountain, instead of into it, as the camera's perspective may suggest.
Marc Dantonio, chief photo and video analyst of the Mutual UFO Network told the Huffington Post, "I am leaning toward the object being a captured commercial jet passing through the field of view."