Amherst abuzz with UFO reports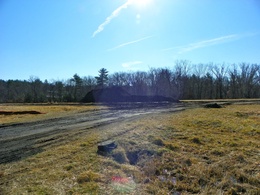 The low flying UFO was spotted over an old landfill in Amherst, MA
Media coverage continues in Amherst. Massachusetts, of a UFO sighting reported by several witnesses in the early evening of January 8, 2013.
Multiple witnesses claim to have seen the low flying object, described as triangle in shape and the size of one or two cars.
Amherst resident Kathryn McGill told the Daily Hampshire Gazette that she spotted the UFO near an old landfill on Belchertown Road.
McGill, 19, said her friends laughed at her when she told them about what she saw, but was vindicated when other locals posted their witness accounts on Facebook and a local blog, Heads in the Clouds Amherst.
McGill was driving to a friend's house when she saw the "large aircraft" fly a steady course about 75-100 feet above her vehicle. She told the Gazzette, "There were four or five cars ahead of me and everyone just stopped and looked at it," adding, "I rolled down my window, but I couldn't hear anything."
She said the object disappeared behind the tree line in about 10 seconds, too soon for her to take a photograph. McGill was unnerved by what she saw in the night sky, calling it roughly diamond shaped, and rounded between the points of the object.
She was able to see the shape of the object because of dim, white lights on the UFO. At first, McGill thought it might have been a crashing aircraft, and afterwards checked the news for any accident reports.
Later that evening, McGill returned to the site of her encounter with her mother and a friend and saw airplanes circling over the landfill, as if searching for something. Other witnesses reported seeing the object that evening as it flew silently over Amherst, Pelham near the Connecticut River.
Beth Maciorowski of Northhampton, MA, and her sister also saw the UFO. They were sitting their car in a parking lot when they saw a low flying object "come up over" a building.
Maciorowski assumed it was an airplane, but that it "seemed way too bizarre for it to be flying so low. It was moving pretty slowly, too," she said.
Maciorowski said the strangest thing about it was how quiet the object was. She thought that if it was an airplane, there was no doubt that they would have heard it flying so low.
She described the object shape as a triangle, but that it was difficult to make out details, even as it flew over them.
The sisters noticed that the object had "quite a few lights," adding that the experience left them feeling, "dumbfounded."
Local authorities angered some residents when they mocked the sighting reports by saying that no crop circles or alien abductions had been reported.
Local TV news reports provided little or no substance in their reports.
The Federal Aviation Administration said that a large military aircraft (C-5A) was flying practice approaches at a nearby air base at the time of the sightings.
However, the Public Affairs Office of Westover AFB denied that they had aircraft in the area at that time. They said that a C-5A cargo plane took-off at 5:30 that evening and returned to base at 9:30 pm.
Westover's chief of public affairs, Lt. Col. James Bishop doubted that the massive, four jet engine C-5A would be confused with a silent, low flying object.
Triangle UFO sightings have been reported recently in the Amherst area, and the recent internet postings have revealed that historically, UFO sightings are not new to the area.