Alleged image of UFO over haunted barn goes viral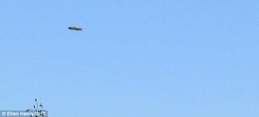 Close up of UFO over Santee, CA.
A photograph of an alleged, disc shape UFO in San Diego, California, has made news recently, and local authorities can't explain what it was.
The photograph's quality is good, and the story got extra play because the image was taken over a historic barn with a reputation for being haunted.
The UFO buzz started on May 7, 2013, when Santee Historical Society worker Ellen Henry was taking photographs of the barn for a new logo. She heard and saw nothing unusual when she shot the picture, but later noticed a "speck" on her camera's LCD screen as she was reviewing her images.

When she enlarged the image, the disc shaped object revealed itself. Henry dismissed that it may have been a close up image of an insect or small, flying debris due to its clarity, though that cannot be ruled out.
The barn sits under a flight path. A local news reporter contacted two area airfields, but officials at neither airport could offer an explanation for the object.

The wingless shape of the object defies the possibility of a drone craft.

Henry reported that just after she took the photograph in question, her camera stopped working.

A barn with an interesting past
Now home to the Santee Historical Society, the property dates back to the mid-19th Century when, through spanish land grants the site became a working farm.
In 1913, the farm was sold to a family who built it into a national award-winning dairy farm, polo pony ranch and early tourist attraction. The barn in the photograph was built in 1913.
In 1923, the property was sold again to the local county and used as "last resort" home for the aged and indigent. Several of the barns were converted into living quarters and several others were demolished. The barn and other buildings housed the sick and dying for decades until 1953. And that's where the ghost hunters believe the hauntings originate from.
The dairy barn was added to the National Registry of Historic Places in 1986.
The UFO can be seen to the left of the barn.