'Absolutely huge' triangle UFO flies low over Missouri town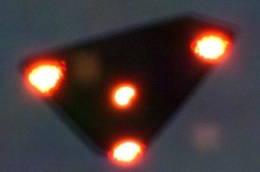 Photo of similar looking UFO over Wallonia, Belgium, on June 15, 1990. Credit: J.S. Henrardi
Low flying triangle shaped UFOs continue to be reported across the United States in recent days.
A witness in driving to work reported observing a large, black triangle flying slowly over Raytown, Missouri, in the early morning hours of November 30, 2012.
The unnamed witness told the Mutual UFO Network (MUFON) that they first saw the object fly over their street, about "twice tree top level" as they left for work at 4:25 AM.
The object stopped and hovered over a neighbor's house.
The witness described the object as an "absolutely huge" black triangle that was darker than the night sky and stated that the size of it would have covered the house it was hovering over, "and then some."  
As described in many reports of similar shaped objects, the witness said the craft had three "very bright, pulsating lights at each corner and a large bright center light." The pulsing lights changed colors and no particular pattern.
The witness submitted an illustration of the the UFO.
The craft began to move slowly.
The witness stopped their car and rolled down the window to take a video with a cell phone, but they were not able to power it on. When the witness looked back up at the object, it had vanished.  
"It was just gone."
The witness said the object was silent, with "no engine noise whatsoever."
November 30, 2012, 4:25 a.m., Raytown, MO - Black Triangle object with three pulsating lights and one center light. Case 44259.
I was on my way to work on November 30, 2012 at 4:25 am. As I turned the corner down the road a huge black triangle object flying low, maybe twice tree top level came over my street moving north east. The object was moving very slow and as it crossed over the street and my car it stopped just above the house on the east side of the street and hovered. The object was black, darker than the night sky with the exception of three very bright pulsating lights at each corner and a large bright center light. The lights changed colors but did not appear to have any pattern to the movement. The object was absolutely huge. It easily covered the entire house and then some. I rolled my window down to take a picture and video with my cell phone but could not get it to come on. So I quickly made a sketch of what I was seeing on a receipt that I had in my car. The object started to move slowly and when I went to try and get my cell phone to work again and I looked up and the object was gone. There was no engine noise what so ever and it was just gone.