UFOs visit Curiosity on Mars? Not likely, yet.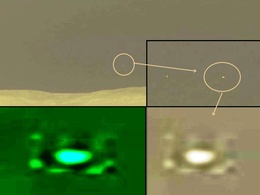 Suspected photographs of UFOs on Mars are likely caused by digital image errors.
The inevitable claims of UFO images on Mars surrounding the newly landed Curiosity have been popping up online this week.
So far, the images have resembled photo errors, like bad digital image pixels and mars dust that has blown onto the rover's camera lens.  
The question is being asked, if something really strange approached the rover by land or air, would mission controllers withhold the images before they streamed to the public?
If Curiosity does receive a visitor, UFOGrid will endeavor to interview the subject.  Stay tuned for updates.
In the meantime, UFOGrid will be reporting new discoveries and spectacular images taken during this latest Mars mission.