Thousands of hi-res lunar mission pictures posted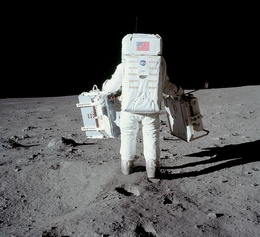 Astronaut Buzz Aldrin carries science equipment on the moon during the Apollo 11 mission. Credit: NASA
More than 8400 high resolution photographs taken by human extraterrestrials during their Apollo moon missions are available online.
The images were posted by the Project Apollo Archive which chronicles NASA's manned lunar landing program in the late 1960s through early 1970s.
Many of the images are personal candids and of scrapbook quality, ranging from pictures of food on board the spaceship to shadows cast by the moonwalkers during their lunar strolls.
The photos were taken by modified Hasselblad cameras which at the time shot high quality images on larger format film negative.
The collection was uploaded to Flickr by Kipp Teague, who works for Lynchburg College and who created the Project Apollo Archive.