Stunning video shows search of Universe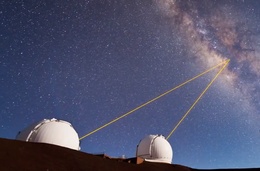 Mountain top telescopes use laser pointers to focus on our universe.
This brief and visually impressive video affirms one's faith that humanity has advanced to a state of readiness and even eagerness for extraterrestrial contact.
Our passion for exploration and wonder has allowed us to peer deeply into the universe, stroll the moon and roam nearby planets.
The time-lapse images were taken by Sean Goebel from atop Mauna Kea, Hawaii, where astronomic observatories look up and into the past as we search for our future.
Credit: sgphotos.com