Space Station prepares for crew arrival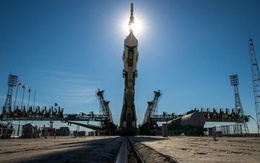 The three Expedition 36 crew members currently living and working aboard the International Space Station wrapped up another busy week of science experiments and research Friday, while three new crew members continued preparations in Kazakhstan for a launch to the orbiting laboratory on Tuesday.
Flight Engineer Chris Cassidy harvested some of the plants that are part of the Seedling Growth experiment. This looks at how plants grow in space, which is important not only for studying how plants grow on Earth, but also how astronauts on future space missions could grow their own food.
Cassidy also performed some checkout activities on one of the Columbus science racks and took some detailed photos of the Alpha Magnetic Spectrometer so ground teams can analyze how the scientific instrument is operating.
Commander Pavel Vinogradov continued to work on the installation of the new treadmill in the Russian segment of the station, installing and testing a low-noise fan that is part of the assembly.
Vinogradov also tested some of the video equipment that will be used during the upcoming arrival of the European Space Agency's Automated Transfer Vehicle-4 in June and during the docking of the Soyuz TMA-09M spacecraft on Tuesday.
Flight Engineer Alexander Misurkin completed some routine maintenance in the Russian segment of the station, cleaning the ventilation system and replacing dust filter cartridges.
Meanwhile at the Baikonur Cosmodrome in Kazakhstan, three new Expedition 36 crew members are preparing to join their orbiting crewmates. Soyuz Commander Fyodor Yurchikhin and Flight Engineers Karen Nyberg and Luca Parmitano are set to launch aboard the Soyuz TMA-09M spacecraft Tuesday at 4:31 p.m. EDT. The new space trio will dock to the Rassvet module just four orbits – or about six hours – later.
At the Baikonur Cosmodrome in Kazakhstan, Expedition 36/37 Flight Engineers Karen Nyberg (left), Fyodor Yurchikhin (center) and Luca Parmitano pose for pictures in front of their Soyuz TMA-09M spacecraft. Credit: NASA/Victor Zelentsov