Secret spaceship lands after 15 months in orbit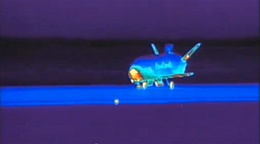 Infrared image of X-37B's glowing nose cone, rolling down the runway after a heated re-entry and landing.
The U.S. civilian space shuttle program may be dead, but the secret military space program is alive and well, after an unmanned Air Force space place quietly returned to earth after spending 469 days in low earth orbit.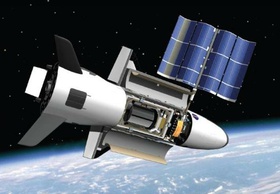 Solar energy panels keep the shuttle aloft for months.
The Boeing built X-37B glided to a pinpoint landing at California's Vandenberg Air Force Base on Saturday morning.  The Air Force gave no advance notice of the landing and withheld details of the space craft's technical performance.
The reusable ship's design is based on the space shuttle lift body, but is only about a quarter of the size of the original orbiter.  Its wingspan is just 14 feet, the body is 29 feet long and it weights 5 1/2 tons fully loaded with fuel.  The payload bay measures 4 feet by 7 feet.  It re-enters earth's atmosphere much like the original shuttle.
It sports two tail wings and an advanced heat shield that is more durable than the first generation heat shield tiles that caused concern during shuttle missions.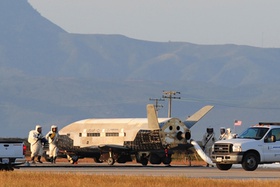 Secret space shuttle is secured after landing. Credit: Air Force.
The orbiter was launched atop an Atlas 5 rocket from Florida's Cape Canaveral Air Force Station on March 5, 2011.  The space ship was able to stay aloft for 15 months because it was powered by an on board solar panel array.
The X-37B was originally designed for NASA and the Pentagon's Defense Advanced Projects Agency (DARPA), but was later turned over the Air Force's Orbital Test Vehicle Program.
This was the second mission for the spacecraft.  
The Air Force has released no information about what the vehicle will be used for, though it is likely payloads are spying related.  
The only virtues that the Air Force touted about the X-37B were that it offers, "less risk commitment" and is more affordable, a claim taxpayers have no way of verifying.