Rocket failure raises questions over use of old Russian engines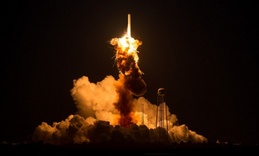 Antares rocket explodes seconds after launch. Credit: NASA
Last night's Antares rocket explosion and loss of hundreds of millions of dollars of payload destined for the International Space Station (ISS) raises questions about the reliability of the aging Russian rockets being used by the private Orbital Sciences Corporation for their launch system.
The rocket was intentionally exploded by ground controllers when a catastrophic equipment failure occurred seconds after launching under clear skies at 6:22PM from Wallops Island, Virginia. No one was hurt in the unmanned launch failure. The rocket was destroyed before it could veer into populated areas. An investigation is underway to determine the exact cause of the malfunction.
NASA tried to put a good face on the mishap, truefully admitting that the space business is full of risk.
"Orbital has demonstrated extraordinary capabilities in its first two missions to the station earlier this year, and we know they can replicate that success. Launching rockets is an incredibly difficult undertaking, and we learn from each success and each setback," wrote NASA in a hastily issued press release.
But the failure puts pressure on NASA and its contractor, Orbital Sciences to do better with US tax dollars and provides a competitive opportunity to Space X, which also has been contracted by NASA to launch rockets to supply the space station.
Space X founder Elon Musk has criticized his competitor for relying on old Russian rockets, which are modified versions of a troubled engine built over 40 years ago. The engines have been mothballed since the Soviet Union gave up its moon race with the US in the late 1960s. Orbital Sciences bought the old rockets and refurbished them. Musk likes to tout that Space X builds their own, new engines on American soil, providing more reliable technology and supply, especially at a time of strained relations between US and Russia.
"Orbital Sciences, has a contract to resupply the International Space Station, and their rocket honestly sounds like the punch line to a joke," Mush told Wired Magazine in 2012. "It uses Russian rocket engines that were made in the '60s. I don't mean their design is from the '60s—I mean they start with engines that were literally made in the '60s and, like, packed away in Siberia somewhere."
Orbital Sciences has a nearly 20 billion dollar contract to launch 18 supply rockets to the ISS, filling a need since the US retired its Space Shuttle Fleet in 2011.
A video taken from the press site offers an excellent view of the explosion and crowd panic. The press isn't supposed to run away from a story, but these folks are spooked by what they saw and likely feared the potential of poison fumes drifting toward them from the exploded rocket fuel: