Resumed US manned space flight closer to reality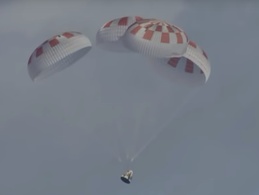 Four main parachutes ease the SpaceX Crew Dragon module to a splashdown in the Atlantic Ocean, successfully completing the manned flight system's first mission to the International Space Station.
After a remarkable 9 years without direct access to the space frontier, the United States came a step closer today to not having to rely on the Russians to get astronauts to the International Space Station (ISS).
SpaceX's Crew Dragon capsule successfully splashed down in the Atlantic Ocean off the coast of Florida, completing the first test flight of the manned space vehicle. It returned from a 5 day visit to ISS with over three hundred pounds of cargo and a dummy named Ripley (an homage to a character from the film "Alien"). Ripley is a space age crash test mannequin that was rigged with sensors to help engineers understand what astronauts will feel when they take the first manned flight on Dragon to the space station as early as July.
Dragon was launched atop a SpaceX Falcon 9 rocket from Cape Canaveral in Florida on Saturday and docked autonomously with ISS for the first time. It detached from ISS early this morning and splashed down just over 6 hours later. Dragon's splashdown is a throwback to before the space shuttle era of winged runway landings, greatly reducing the complexity and cost of space travel.
SpaceX head Elon Musk said that he was worried about Dragon's first reentry because the capsule's embedded emergency escape rockets on its sides that could have caused flight instability during its fiery decent into the atmosphere. It was not an evident problem in today's flight.
The same Dragon capsule will be used in one last critical test flight before the system is cleared for human flight. It will be used to test an inflight launch abort system, where Dragon will be intentionally released from the launch rocket prematurely to see if astronauts could survive a potential catastrophic failure of the a Falcon booster rocket during ascent. That is when the embedded emergency escape rockets on the capsule would propel the crew safely away from a failed booster rocket during launch.
SpaceX and Boeing are sharing a combined $6.8 billion contract to build separate crew capsules as part of NASA's commercial crew program. The program has rigorous terms, including a requirement that SpaceX pluck capsules out of the ocean within an hour of splashdown. Today's test came close to meeting that deadline. SpaceX had its "Go Searcher" recovery ship, equipped with a medical facility and helipad standing by.
Though there are many bugs yet to work through, today's splashdown was a picture perfect landing and big step toward regaining long awaited US access to space.