Rare photo of the Moon's far side and Earth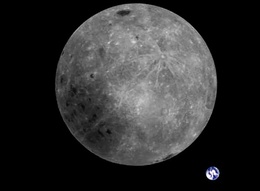 Photograph of the far side of the Moon with the Earth behind it. Credit: CAMRAS/MingChuan Wei (HIT), CAMRAS, DK5LA
An image from space showing the entire far side of the Moon with the Earth floating a quarter of a million miles behind it was captured by a Chinese spacecraft on February 3.
The Longjiang-2 spacecraft has been orbiting the Moon since June 2018, and serving as a relay satellite for China's Chang'e 4 lunar lander and rover, the first probe to land on the far side of the Moon and out of range from direct communication with mission controllers.
Chang'e 4 is studying the little known side of the planet never seen from Earth, and recently sprouted seeds that created the first plants ever grown on the Moon.
The striking photo showing the far side of the Moon and a marble size Earth in the distance was processed by the Dwingeloo Radio Observatory in the Netherlands.