Private manned mission to Mars in 2018 to be announced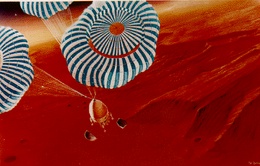 Artist rendering of manned entry to Mars. Credit: NASA.
America's first space tourist, Dennis Tito, will announce a 501 day, round trip manned Mars mission to be launched in January 2018.
Tito, who paid 20 million dollars to visit the International Space Station as a tourist in 2001, founded the non-profit "Inspiration Mars Foundation" to organize the mission.
The proposal will be formally announced at Washington, D.C.'s National Press Club on February 27, 2013.
Several space science experts will speak at the event about how the mission will keep the crew alive and safe, a major and yet unsolved challenge facing Mars travelers.
The life support risks associated with a manned mission to Mars include potentially lethal deep space radiation, long term weightlessness, nutrition and psychological isolation.