Orion splashdown in Pacific Ocean completes successful first mission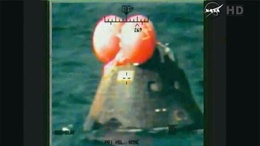 The Orion capsule bobs in the Pacific Ocean after splashdown Friday. Credit: NASA
NASA's Orion spacecraft completed its first test flight today and passed with flying colors.
Orion blasted off from Cape Canaveral, Florida, orbited the Earth twice and landed on target in the Pacific Ocean at 8:29 am, PT.
The mission lasted four and a half hours.
Orion is NASA's next generation manned space vehicle designed for exotic, deep space exploration to comets and planets.
This first test flight put the craft through the most stressful aspects of spaceflight, chiefly launch, reentry and landing. In its second orbit, the craft climbed to an altitude of 3600 miles and into the Van Allen belt, a highly radioactive field of energy that surrounds Earth. The region provided a test of the vehicle's shielding to protect flight crews from deadly radiation exposure during deep space missions.

The craft was not manned for its first mission and was instead loaded with sensors to monitor performance and structural stress during the flight and splashdown.

Though a completely new design with the latest technology, Orion is a throwback to the Apollo space capsule that took 8 crews to the Moon, six of which landed in the 1960-70's. Unlike the reusable Space Shuttle, which glided to a runway landing, Orion reentered the atmosphere at 20,000 mph, and used a reentry shield to deflect upwards of 4000 degrees of heat friction as it plunged into the Earth's atmosphere before parachuting into the ocean at just 20 mph.

The return to a risky water landing is designed to reduce the high costs of building and maintaining a reusable spacecraft, and one that is better designed for long distance missions.

Orion was launched into space atop a Delta 4 heavy lift rocket used for large payload launches including satellites.
NASA is building a new, heavy lift "Space Launch System (SLS)" for Orion that is planned to be ready for a second test launch in 2018. The SLS's massive rocket engines will produce 8.4 million pounds of thrust to hurl Orion to the Moon, Mars and comets. By comparison, the Apollo Saturn V moon rocket featured 7.5 million pounds of thrust and the Space Shuttle launch system maxed out at five and a quarter million pounds of total launch thrust.

Below are videos of today's launch and splashdown.