New crew takes first express rocket to space station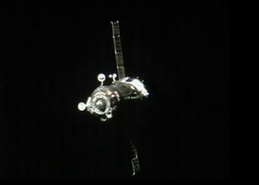 The Soyuz TMA-08M spacecraft approaches the International Space Station. Photo credit: NASA TV
The Soyuz TMA-08M spacecraft carrying three new Expedition 35 crew members docked with the International Space Station's Poisk module at 10:28 p.m. EDT Thursday, completing its accelerated journey to the orbiting complex in less than six hours.
Soyuz Commander Pavel Vinogradov and Alexander Misurkin of the Russian Federal Space Agency (Roscosmos) and NASA astronaut Chris Cassidy, who launched from the Baikonur Cosmodrome in Kazakhstan at 4:43 p.m. (2:43 a.m. Friday, Baikonur time) are the first station crew members to take this expedited route to the orbiting laboratory. The Soyuz reached the station after only four orbits instead of the usual two-day launch-to-docking mission profile for a Russian spacecraft. While this is the first crewed spacecraft to employ this technique, Russian space officials successfully tested it with the last three Progress cargo vehicles.
After the hatches opened at 12:35 a.m. Friday, Cassidy, Vinogradov and Misurkin joined Commander Chris Hadfield of the Canadian Space Agency and Flight Engineers Tom Marshburn of NASA and Roman Romanenko of Roscosmos who have been residing at the orbital laboratory since Dec. 21, 2012. All six crew members crew then participated in a welcome ceremony with family members and mission officials gathered at the Russian Mission Control Center in Star City near Moscow.
Shortly after the arrival of three new crewmates aboard the International Space Station, all six Expedition 35 crew members speak with family members and mission officials back on Earth. Photo credit: NASA TV
Expedition 35 will operate with its full six-person crew complement until May when Hadfield, Marshburn and Romanenko return to Earth aboard their Soyuz TMA-07M spacecraft. Their departure will mark the beginning of Expedition 36 under the command of Vinogradov, who along with crewmates Cassidy and Misurkin will maintain the station as a three-person crew until the launch of three additional flight engineers in late May. Cassidy, Vinogradov and Misurkin are scheduled to return to Earth in September.
During the approximate six-month timeframe of Expeditions 35 and 36, 137 investigations will be performed on the U.S. operating segment of the station, and 44 on the Russian segment. More than 430 investigators from around the world are involved in the research. The investigations cover human research, biological and physical sciences, technology development, Earth observation, and education.
Cassidy, a commander in the U.S. Navy, is making his second spaceflight. His first visit to the station was as an STS-127 mission specialist aboard space shuttle Endeavour in July 2009. During that mission Cassidy performed three spacewalks, spending more than 18 hours outside the orbiting complex.
This is the third space mission for Vinogradov, a former design engineer. Previously, Vinogradov was a crew member aboard space station Mir for 197 days in 1997-98 and spent 182 days aboard the International Space Station in 2006 as an Expedition 13 flight engineer.
A retired lieutenant colonel in the Russian Air Force, Misurkin is making his first spaceflight. He was selected as a cosmonaut candidate in 2006 and qualified as a test-cosmonaut in 2009.