NASA hints at big news from Mars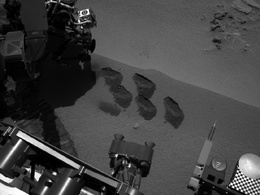 Curiosity dug five scoops of mars soil from an area called "Rocknest." The rover may have found something of great significance, but NASA may take weeks to confirm their findings before making an announcement. Credit: NASA JPL-Caltech.
NASA's rover, Curiosity, might have made a "historic" discovery on Mars. However, an official announcement may be weeks away.
That's what John Grotzinger, the principal investigator for the rover mission told a National Public Radio (NPR) reporter last week.
The development has to do with a device called SAM, which is a miniature chemistry lab aboard Curiosity. Grotzinger told NPR's Joe Palca that "We're getting data from SAM as we sit here and speak, and the data looks really interesting."
SAM examines soil samples that have been dug by the rover's shovel, telling scientists on earth what the martian soil is composed of. Grotzinger said, "This data is gonna be one for the history books. It's looking really good." 
Why won't NASA announce their findings now?
Scientists at NASA's Jet Propulsion Laboratory in Pasadena, CA, are pouring over the soil data as it is transmitted to earth for study. Investigators want to make sure that whatever they have detected was not from air possibly brought from earth aboard Curiosity when it launched from Florida's Cape Canaveral.
They also must rule out instrument error or some other false positive.
It may take several weeks to confirm their findings and announce what could be big news about life outside earth.  
Why mention it now, if you can't give details?
It's budget season in Washington and NASA is threatened with spending cuts in the face of crushing national debt. Earth-shattering news from Mars would mean big results for the space agency, which is constantly struggling to maintain their congressional funding.