Meteroid slams into atmosphere, hundreds injured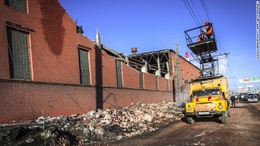 Damage to power lines and a zinc factory was likely caused by shock waves from the meteorites, not a direct impact.
A meteoroid entered earth's atmosphere over the Urals region of Russia this morning, injuring over 700 people, according to various news agencies.
The injury toll is rising as more people seek assistance. Dozens have been hospitalized, according to Russian health officials, with most injuries minor.
The forces of the meteor's impact with the atmosphere created an explosion that shattered building windows and panicked local residents.
Close to 300 buildings were damaged, including hospitals and schools, according to Vladimir Stepanov, of the National Center for Emergency Situations at the Russian Interior Ministry.
Russian officials believe that one meteoroid entered the atmosphere and broke up into smaller meteorites as it exploded in the earth's atmosphere, falling over a large area that includes three regions, including Chelyabinsk and Kazakhstan.
As the meteoroid's fragments streaked into the atmosphere, videos recorded an extremely bright fireball and deafening explosions as it exploded and fell to earth.
European Space Agency officials say that that the event was not related to the large asteroid known as 2012 DA14, that will fly by as close as 17,000 miles from earth today.
If 2012 DA14, the size of half a football field collided with earth, the impact would be devastating to the planet. There is no threat of it hitting earth.